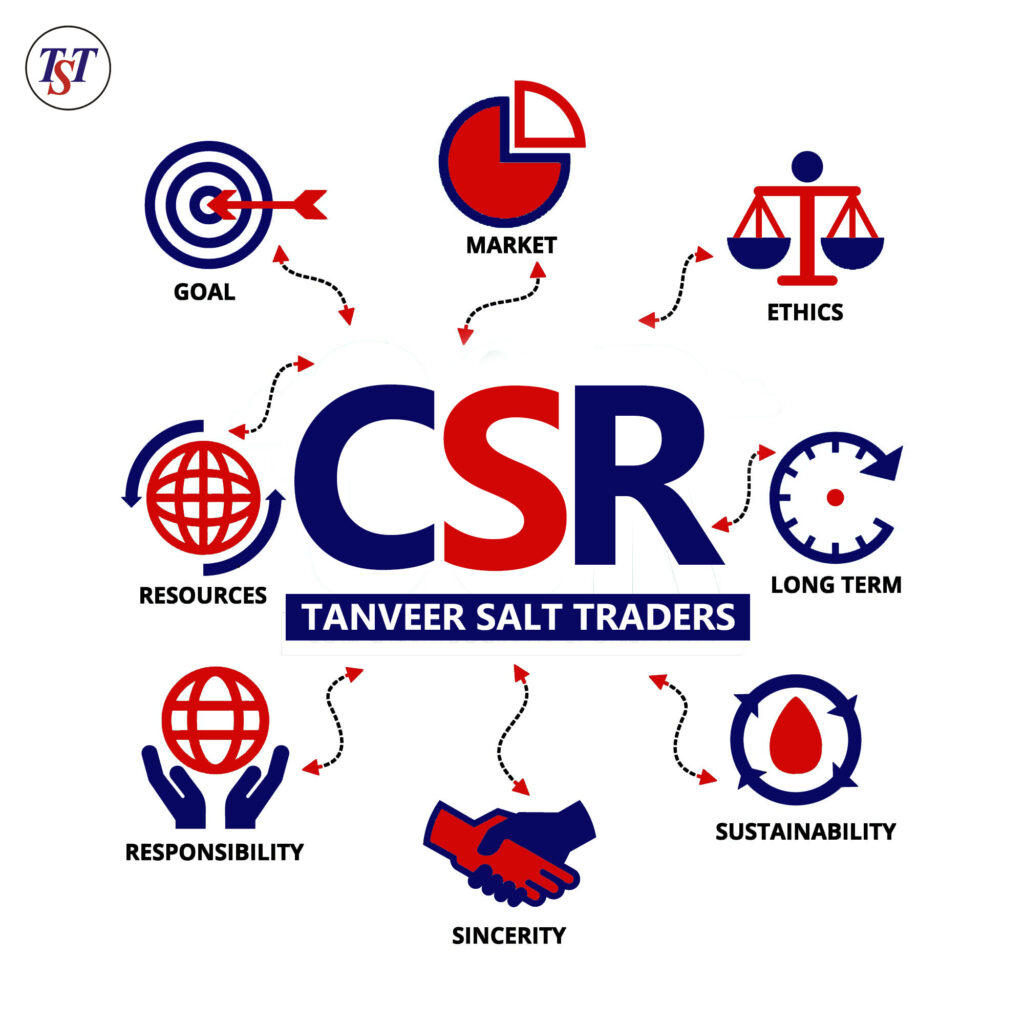 Corporate

Social

Responsibility
At Tanveer Salt Traders, we do business with determination. It is a natural opportunity for us to contribute to helping the environment & humanity. We have been following the guidelines of corporate social responsibility since we start. According to corporate social responsibility, mining corporations would bestow an amount as fixed by the government per annum towards the welfare of the local population. The government will spend this contribution on community refinement projects.
Corporate

Environmental

Responsibility
We are environment-friendly. Being the top-quality manufacturer & exporter of the organic Himalayan Pink Salt & its products, we are bound to strictly follow the rules & regulations at both national and international levels. We make sure the implementation of all policies thoroughly. Environment policy is one of them. According to environmental policy, we are committed to taking into account all factors of our business that influence the environment at any level. We have to minimize the effects that can contribute to environmental pollution. We are committed to setting up a pollution-free environment in all processing techniques and services.
Corporate

Mineral Conflict

Policy
Being the top-quality manufacturer & exporter of the organic Himalayan Pink Salt & its products, we are committed to strictly following the conflict mineral policy. There are four main conflicts minerals tin, tantalum, tungsten, and gold. These conflict minerals are sometimes mined & sold to impact & finance military conflict, brutality & human rights violations. As a responsible company, TST supports the objective of the Conflict Mineral Policy of preventing armed conflicts in the Democratic Republic of the Congo (DRC) and neighboring countries from exploiting the sourcing of Conflict Minerals from that area .
Corporate

CHILD LABOUR

Policy
It is illegal for a child to take part in domestic child labour. The government acknowledged the effects of child labour as physical & mental health issues. Child labour affects the child's schooling, majesty & mental development. Being the exporter and manufacturer of top-quality Himalayan Pink Salt & its products, we have to follow all national & international rules and regulations. We have been strictly following the child labour policy. We do not promote child labour.